My go-to muffin recipe checks all the boxes for a great and healthy snack. They are simple to make, gluten free, sugar free, AND they are a great use for that last bit of oatmeal leftover in the pot. My kids love these, and they make a great grab-and-go snack for our adventures.
What do you do with that leftover oatmeal?
Anyone else find it hard to predict how much oatmeal their family is going to eat on any given day? I prefer to have extra than to have kids calling for more when the pot is empty, so I tend to err on preparing a generous amount. Quite often, there will be an awkward amount of oatmeal left over. Not enough for someone to eat later, but enough that I feel bad throwing it out.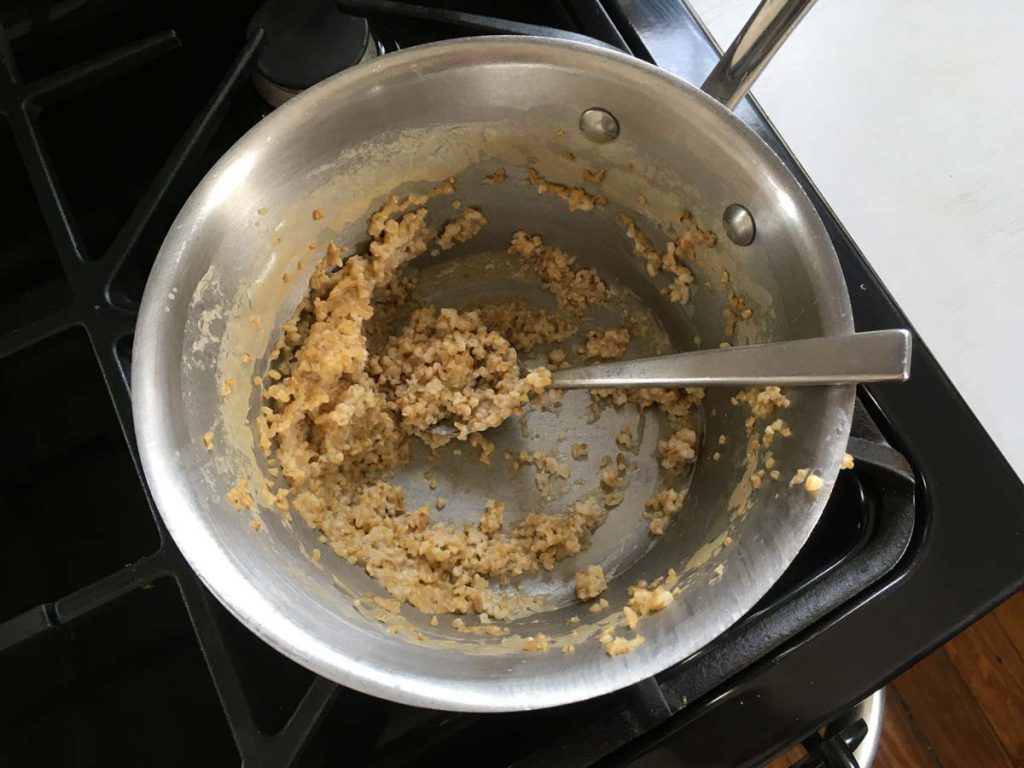 Can you make muffins with leftover oatmeal?
After some experimenting, starting with this great blender muffin base recipe, I have developed a great way of turning that awkward leftover oatmeal into a simple and satisfying muffin. Since the amount left over is always a little different, this recipe is flexible to accommodate up to 1 1/2 cups of leftover oatmeal. We generally have steel cut oats or rolled oats and it works with both.
This is a great recipe for getting the littles involved. My little one puts the muffin cups in the pan, my older one pours ingredients into the blender, and then they always fight to push the button.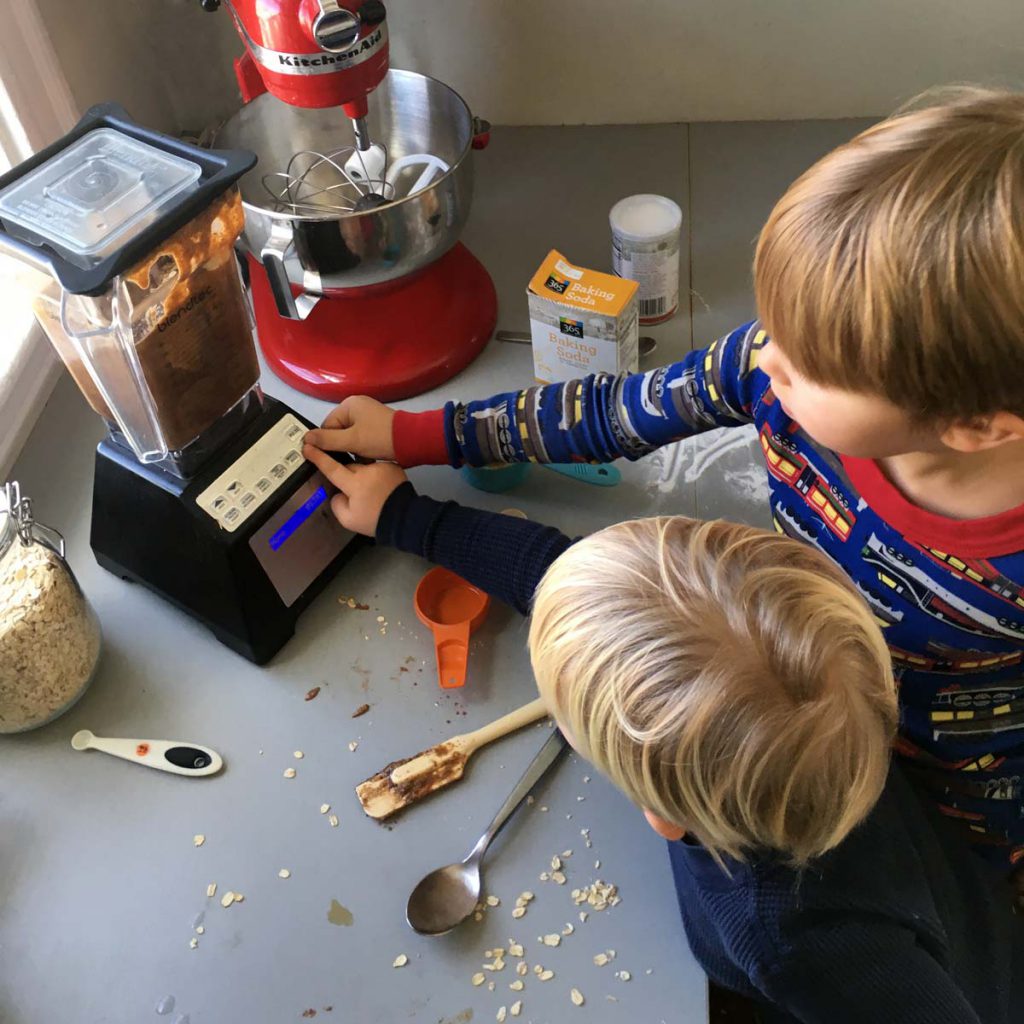 Chocolate-ee Leftover Oatmeal Muffin Recipe
Makes 12 muffins
Ingredients:
2 bananas (the riper the better!)
2 eggs
Up to 1 1/2 cups leftover oatmeal
Dry rolled oats (calculate amount based on logic below)
↳ If using ≤1 cup leftover oatmeal, add enough dry oats to total 2 1/2 cups (leftovers + dry)
↳ If using >1 cup leftover oatmeal, add enough dry oats to total 2 3/4 cups (leftovers + dry)
½ cup almond butter (or any nut butter)
½ cup pure maple syrup
½ cup carob powder* (or 2/3 cup cocoa powder)
¼ cup yogurt
1 teaspoon baking powder
1/2 teaspoon baking soda
1/4 teaspoon salt
Optional: 1/2 cup coconut shavings
Directions:
Prep: Preheat oven to 375° and put muffin cups in your muffin pans (or grease the pans).
Blend: Put all ingredients in blender (in suggested order) and blend well.
Adjust: Leftover oatmeal will vary in dryness – if the batter is too dry, add some milk or non-dairy substitute; if the batter is too wet, add some dry rolled oats or coconut shavings until it reaches a thick batter that pours slowly.
Bake: Fill muffin cups 3/4 full with batter, sprinkle with coconut shavings if you like, and bake for 25 minutes or until inserted toothpick comes out dry.
Enjoy: Fresh muffins are best with a nice slab of melting butter. Will also keep in an airtight container on counter for a few days.
*If you're not familiar with carob powder, it's similar to chocolate but has some health benefits, such as no caffeine or oxalic acid, more fiber, and a naturally sweeter taste so it requires less sweetener. If you don't have this cocoa powder is fine, but the end result will be a little less sweet.
Let me know if you make these! And pin this to your Pinterest board if you want to make them later! I hope you enjoy them as much as these kids do.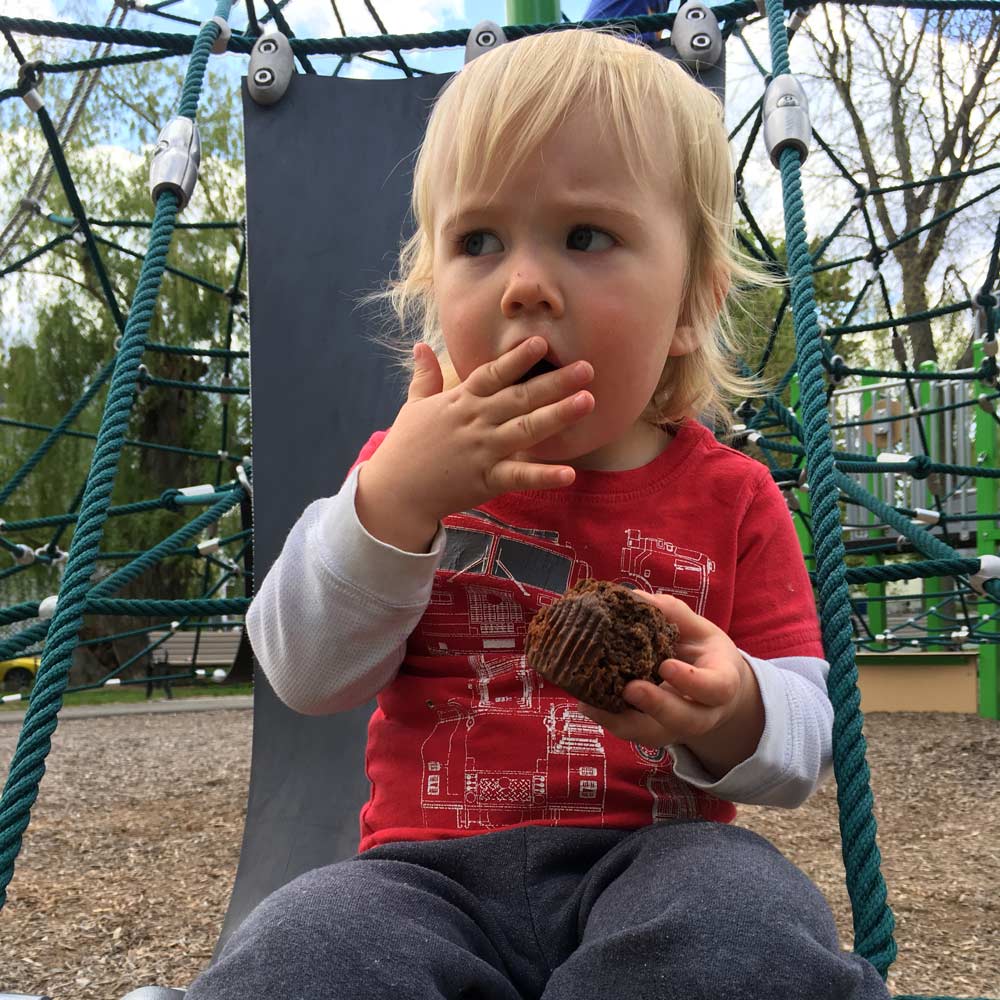 Sources of Inspiration
Proverbs 30:7-9 "Give me neither poverty nor riches, but give me only my daily bread."