I would just like to set the record straight on tapping Norway Maples for making your own maple syrup. Before embarking on our little front yard maple syruping adventure, I was blissfully ignorant of our tree's "inferior" status. The large, full tree in front of our condo had been a selling point. The sun filters through the glorious layers of green leaves, filling our front room on the third floor with nature's dazzling light play. We affectionately refer to our condo as the "treehouse" since it feels like we are up in the canopy.
We learned that it was possible to make maple syrup from only one maple tree, and the tree only grew in our esteem. I started blogging about our experience, and someone online pointed out that our Maple was a Norway Maple, and "he wouldn't bother tapping that." (Pretty cool to learn that you can identify a Norway Maple even in the winter by just looking at the bark!) Then a couple neighbors referred to it as a "trash tree" in conversation. I even found the information online to be muddled, with some saying you CAN'T tap a Norway Maple!
Why is the Norway Maple considered a trash tree?
Norway Maples are one of the most common trees found along urban streets. They were widely embraced in the mid-20th century as Elms were falling to Dutch Elm Disease. The Norway Maple was extremely tolerant of urban conditions and grew rapidly, making it a popular choice. As it has turned out, they are extremely prolific and hardy. When their seeds reach forested areas they outcompete the native species (including Sugar Maples) and reduce diversity of the forest with their extremely thick shade. They have now been designated an invasive species.
Unfortunately the tree has also not proven as valuable as expected in the city. The quick-growing wood is weak and prone to rot. This leads to falling branches, which is obviously a problem in an urban area.
I do NOT recommend planting a Norway Maple (and in many areas you could get in trouble for doing so.) However, since they are currently existing (in great abundance) you should know that they are absolutely suitable to tap for maple syrup.
How Much Syrup Can You Get from a Norway Maple?
The "experts" say that you get less syrup from a Norway Maple due to lower sugar content. On a typical Sugar Maple, the ratio is 40 gallons of sap to 1 gallon of syrup. On a Norway Maple this ratio is supposed to be 60 gallons of sap to 1 gallon of syrup. In our experience, the ratio of sap to syrup was about 43 gallons of sap to make 1 gallon of syrup. This is much closer to a typical Sugar Maple. I believe this is because, as I pointed out in my first post on the subject, an urban tree has much more room for crowning of branches than a forest tree, which leads to higher sugar content.
Our Experience Tapping a Norway Maple for Maple Syrup
I'm glad we didn't know our tree's reputation before we started, because we would have missed out on the delightful experience of bringing pure maple syrup from our own tree to table. Having had this experience, I would absolutely do it again and surely increase our production having learned a thing or two.
We tapped our tree on February 28. We could have tapped them at least a week earlier, but we came up with a collection system last minute and had to wait for our supplies to come in.
We placed one tap on the north side because it was under a nice big branch, which we had read was helpful for the sap. The other tap we placed on the southern side, which is also generally recommended. We left the taps in for a month. Final collection was March 29th. (North tap had stopped running March 21st.)
We learned that southern exposure trumps the underside of a big branch! The southerly tap produced over twice as much (close to 10 gallons) as the northerly tap (nearly 4 gallons).
We experimented with many different methods for processing this sap into syrup in our home kitchen to find the most practical approach. (Crock-pot? Instant Pot? Stove?) (See all the details here.) In the end we made 5 cups of syrup.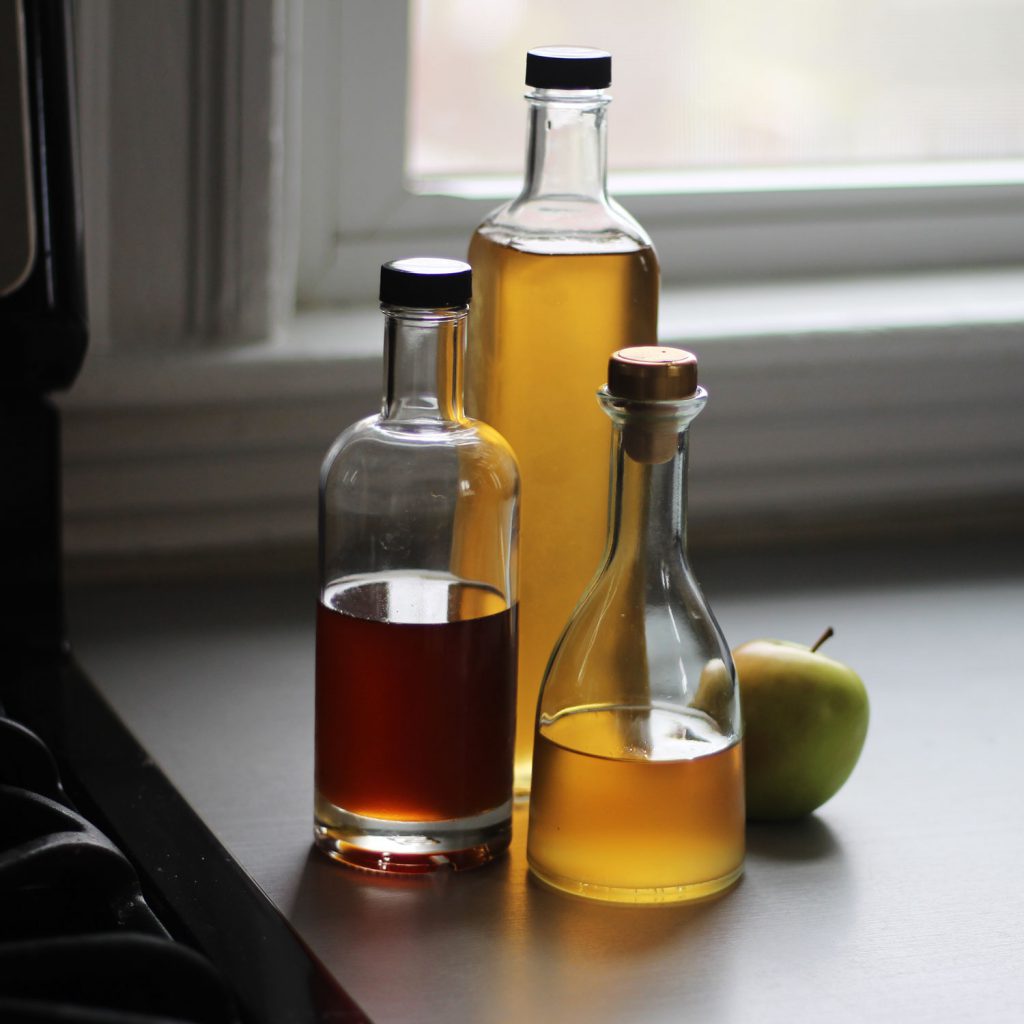 Five cups is not a ton, but certainly enough for many a pancake breakfast. We already hosted our condo-mates for a lovely pancake breakfast and everyone was delighted to try the hyperlocal syrup. The consensus was that Norway Maple syrup tasted very much like the Sugar Maple syrup people were used to and was downright delicious.
Connecting with the neighbors was a nice benefit of the whole experience. Since our Norway Maple is in a highly trafficked area (as most are) we had many curious parties stopping to ask about what we were up to. We met more neighbors in this one-month stretch than in the past 5 years 🙂
What lessons did we learn from tapping the Norway Maple?
I'm pretty confident if we tapped this same tree for maple syrup again we could improve the output to at least half a gallon of syrup. Here's what we would do differently:
Tap Earlier — I have since learned that Norway Maples bud earlier than other maples, so you can expect the season to end earlier. Given that, it just makes sense to start earlier since you have an earlier cut-off date. The risk with Sugar Maples is that if you tap too early, the holes will start to close up before a great late Spring run. This is less of a risk for Norway Maples since the season won't go as long.
Concentrate on the Southern Side — Viewing other operations, I've noticed that even when there are multiple taps on a tree, people tend to clump them on the southern side of the tree. It's important to move the tap location every year, but I guess it's possible to do this still on the more productive side of the tree. By simply increasing my low-performing tap to my high-performing tap levels I could have increased my production by over a third.
Do we recommend tapping a Norway Maple?
If you have access to a Norway Maple, I highly recommend tapping it! It's a great urban homesteading activity. Chances are your Norway Maple also has space for some nice crowning, making it a respectable sugar producer. You will get to experience this age-old American tradition, the delightful taste of pure maple syrup brought from tree to table, and surely make some friends along the way.
Have you tried tapping a Norway Maple? How did your experience go? Please share with us in the comments so we can all learn together!